Week number one in the books. Let the cravings, mood swings, and grogginess begin.
The first two days were great - how could they not be while eating one of my favorite meals. But the sugar cravings kicked in on day three, and by day five I could feel the effects of my body utilizing sources for energy other than sugar and processed carbs. It's currently Friday, and I am in full-blown Whole30 hangover mode.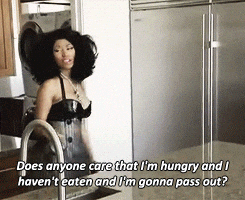 It varies for every individual, but here are the main effects for me:
Unfocused, fuzzy head feeling (strongest feeling)

Tired

Lethargic

Eye Pain

Irritable

annndd... gassy.
Why continue? It's bagel/donut day every Friday at work, and I want one. I'm tired. I'm hungry. Is there a reason for putting yourself through this? YES! After week two, the feelings of being awake, alert, and alive all come crashing in. It. Is. Worth It.
In my past Whole30 experience, I heard of various methods of how to do it. Although one point is to reduce snacking, I find it easier to eat moderately five times a day versus a larger three times. If not, I'm hungry and uncomfortable so I do what feels best for me. For my experience, Whole30 is about clean eating more than amount of eating.
Here are the snacks that kept me feeling satisfied throughout the day:
Apples

Lara Bars

Roasted Almonds

Baby Carrots
Meals for the week:
Breakfast: Eggs and Avocado

Lunch: Whole30 Chili

Dinner: Chicken Breast and Veggies
For an entertaining article about the day to day break down of the effects of Whole30, check out this site. More recipes to come! Find my suggested recipes here.